AIME 2018 hosted buyers and industry press gathered at the Old Melbourne Gaol on Sunday night for the trade show's annual opening night party. Presented by Showtime Event Group (pictured above), The Uncover Melbourne: Hosted Buyer and Media Cocktail Evening gave guests the chance to network with industry peers within one of the city's most historic venues.
The big announcement from the evening came when Showtime Events Centre unveiled its re-brand as multi-site caterer Showtime Event Group. Specializing in business events with a suite of new exclusive and partner venues across Melbourne, the party was the perfect opportunity for Showtime Event Group to show off the Old Melbourne Gaol, its latest exclusive venue.
From us at Showtime Event Group; the feedback from Hosted Buyers and other attendees was exceptional, from food to styling and everything in-between. Guests informed us that they had a truly wonderful experience and we hope that they return again in the near future. Thank you to all those who attended and made the night exceptional.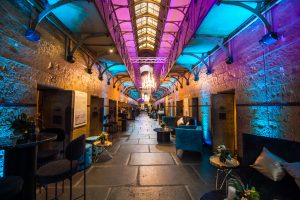 To view the full article
https://www.spicenews.com.au/2018/02/event-snapshot-aime-2018-hosted-buyer-party-old-melbourne-gaol/