Discover The Magic Of Christmas at State Library Victoria's Ian Potter Queens Hall
This Christmas, step into a world of timeless elegance and festive delight as Showtime Event Group opens the doors to the exquisite Ian Potter Queens Hall at State Library Victoria. For the first time ever, we invite you to celebrate the most wonderful time of the year with a splendid Christmas Day lunch in this hidden gem.
Unlock The Beauty Of The Ian Potter Queens Hall
Traditionally, enjoying festivities in the Ian Potter Queens Hall has been reserved for exclusive weddings and corporate events. But this Christmas, you too can enjoy dining in its grandeur.. As you walk down the red carpet, a majestic Christmas tree will take centre stage, setting the scene for a day of wonder and joy.
Sounds Of The Season
The festive spirit will surround you as a quartet fills the space with melodic notes, and our attentive staff welcomes you with a refreshing drink. Mingle, explore, and soak in the ambience before settling down for lunch, where you will crack open bonbons and enjoy a limitless beverage package.
Feast Fit For Royalty
Our Christmas lunch promises a culinary journey for the senses. With a tantalising array of culinary delights, including a carving station, prawn and oyster bar, traditional Sunday roast station and a festive dessert – your taste buds are in for a treat. These delectable offerings will ensure your Christmas is truly unforgettable.
Details At A Glance:
Date: Monday 25th December, 2023
Time: Three hour bookings available from 11am – 1pm
Price: $290 per person (18 years and up)
$145 per person (17 years and under) 
This Christmas, join us at State Library Victoria for a festive experience like no other.
Reserve your spot now and make this Christmas truly magical.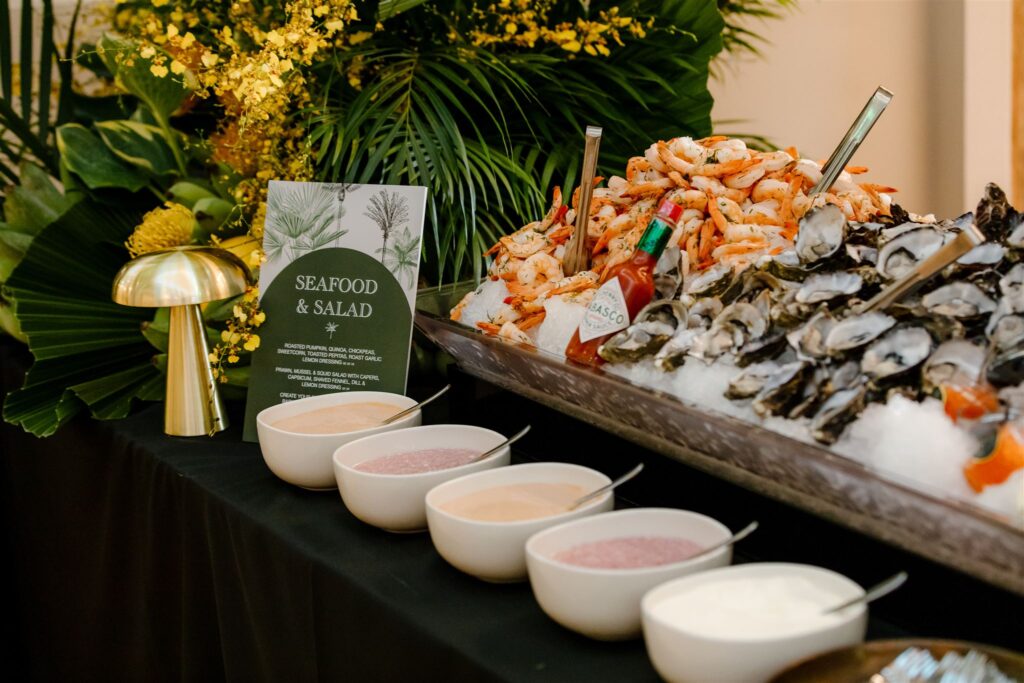 CHRISTMAS LUNCH MENU
MENU
Vegan menu available.
Appetiser – Cheese Station
Maffra cheddar, Tarago River blue cheese, King Island Cape Wickham double brie, fromage de chevre
Raisin & walnut rye, seeded baguette, dried fruit, poached figs, fresh grapes, pumpkin relish, toasted nuts, rose quince paste, grapes, crackers, and lavosh
Entrée – Prawn and Oyster
Freshly shucked oysters, lemon poached prawns
Mignonette, nam jim, Marie Rose sauce, Tabasco, ginger soy dressing, spring onions, pomegranate, tartare sauce, jalapeno guacamole​
Gravlax, caviar, salmon roe, blini, dill crème fraiche
Main – Carvery and Sides
Mustard and rosemary roast lamb noisette, Roast turkey with pistachio and cranberry stuffing, maple glazed ham
Green beans with toasted almonds, garlic flakes, caramelized shallots, roast root vegetables with salsa verde, rustic pumpkin wedges, carrot, sweet potato
Dessert
Plum pudding with rum anglaise, vanilla bean ice-cream, cherry compote
BEVERAGE
Welcome cocktail/mocktail
Inclusive beverage package including Victorian wines, beers and ciders
Sprits and cocktails available for purchase
*all menu items are subject to changes according to seasonality and availability.
* PLEASE ADD DIETARY REQUIREMENTS DURING BOOKING
Vegan options and special dietary requirements are on offer.
Please fill out the dietary requirement section during the booking process to request your particular requirement.
If you have any questions, please contact our events team on info@seg.melbourne or 03 9682 1777