As the festive season approaches, it's time for Melbourne's corporate world to don its festive attire and get ready for an unforgettable celebration. At Showtime Event Group, we're excited to present three iconic venues that promise to add a touch of sparkle to your corporate Christmas party. Say hello to Old Melbourne Gaol, Polly Woodside, and Hellenic Museum – each offering a unique and enchanting experience that's out of the ordinary.
End-to-End Service & All-Inclusive Packages
Our commitment to creating memorable moments begins with our end-to-end service and all-inclusive packages. When you choose Showtime Event Group for your corporate Christmas party, you can relax and enjoy the festivities while our dedicated event producer takes care of every detail.
Central Locations & Spectacular Views
Hellenic Museum
Nestled in the heart of Melbourne's CBD, the Hellenic Museum offers a central location that's easy to get to. Whether you're planning a breakfast, lunch, or dinner event, this venue provides a charming setting for your celebration.
Polly Woodside
If you're looking for fun themes and a touch of adventure, Polly Woodside is the place to be. Explore this historic ship and choose from a range of party styles, including sit-down dinners, cocktail parties, and food station feasts. Conveniently located near public transport, hotels, and the Melbourne Convention and Exhibition Centre, Polly Woodside also offers stunning CBD views.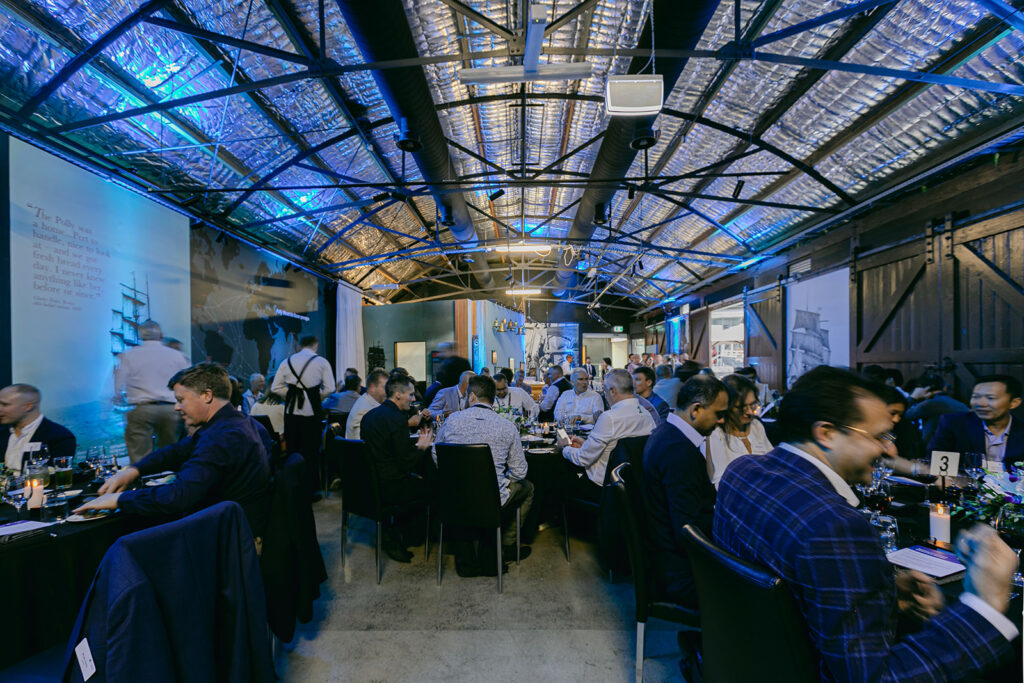 Old Melbourne Gaol
For a Christmas party that's truly unique and quirky, look no further than Old Melbourne Gaol. Here, you can opt for cocktail parties with a twist or fancy sit-down dinner parties in the former City Watch House and Old Magistrates Court. What sets this venue apart are the theatrical and interactive shows and tours that allow your guests to engage with authentic historic figures, making it an unforgettable night.
Packages For Every Budget
We understand that every corporate budget is unique. That's why we offer a range of packages starting from just $61 per person*. Regardless of your budget, you can elevate your Christmas party experience and treat your team to an event they'll cherish for years to come.
Book Your Unforgettable Corporate Christmas Party
Don't miss out on the opportunity to host a corporate Christmas party like no other. Reserve your date at one of these iconic Melbourne venues today and ensure your team enjoys a celebration filled with wonder and excitement.
To book or inquire about our corporate Christmas party packages, please contact us here.
*Prices may vary based on package selections and group size. Terms and conditions apply.