Taking a peak into the homes of the Showtime Event Group Family, you would never know that Victoria was currently in a Stage Four Lockdown. Each individual, as we were unable to celebrate together, was sipping cocktails while the Champagne cooled on ice, slipping into their ball gowns and formal ware, enjoying artisanal cheese and biscuits which had been delivered by the Operations Team. Instead of traveling to Crown Casino, the team would make the small commute to their living rooms.

For the second year in a row, the Australian Bridal Industry Awards was being streamed online, instead of being held as a formal Galla Dinner, due to COVID-19. The Showtime Team decided we would still make a night out of it, so we could celebrate the year that had passed, even if from our own homes.

A handful of our team members were feeling that extra bit of excitement and nerves, as it was the first year that State Library Victoria had been nominated and a finalist in the Awards.

30 minutes before the Awards Ceremony began, everyone logged on to our ZOOM, and had a bit of a catch up. Brad, our General Manager, and Hayley, Head of Production, both said a few words of encouragement and support before the event started, to share how proud they were of the team and accomplishes achieved in such a trying year.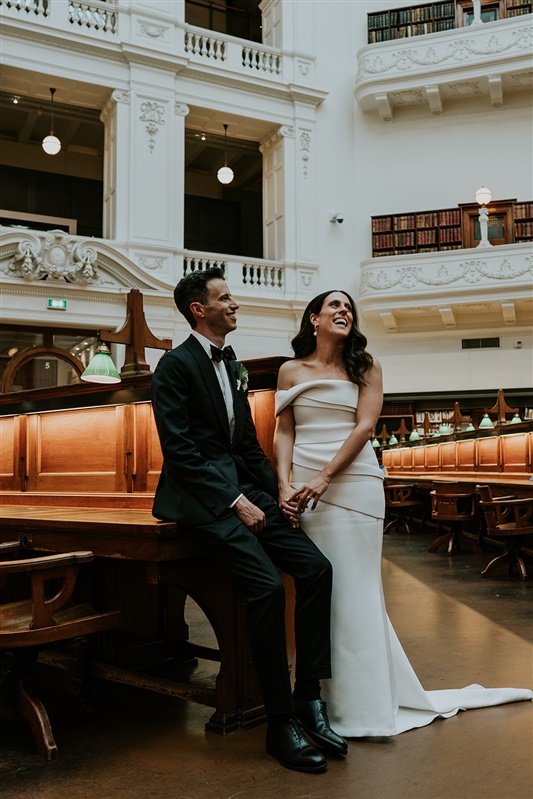 As the awards began, the group was silent – watching in anticipation. The first award up? Function Coordinator! As the nominees were announced, there were the cheers and glasses raised for all venues listed. It progressed:

Top 5- State Library is listed.

Top 3- State Library is listed!

And the 2021 ABIA Awards for Function Coordinator of Victoria is… STATE LIBRARY VICTORIA!

Screams and whoops and hollers of celebrations erupted as this achievement had been announced.
Showtime Event Group has been a part of the Australian Bridal Industry Academy for 7 years, and had often been a finalist, achieving Runner Up numerous times, but had not yet claimed the title of Number One.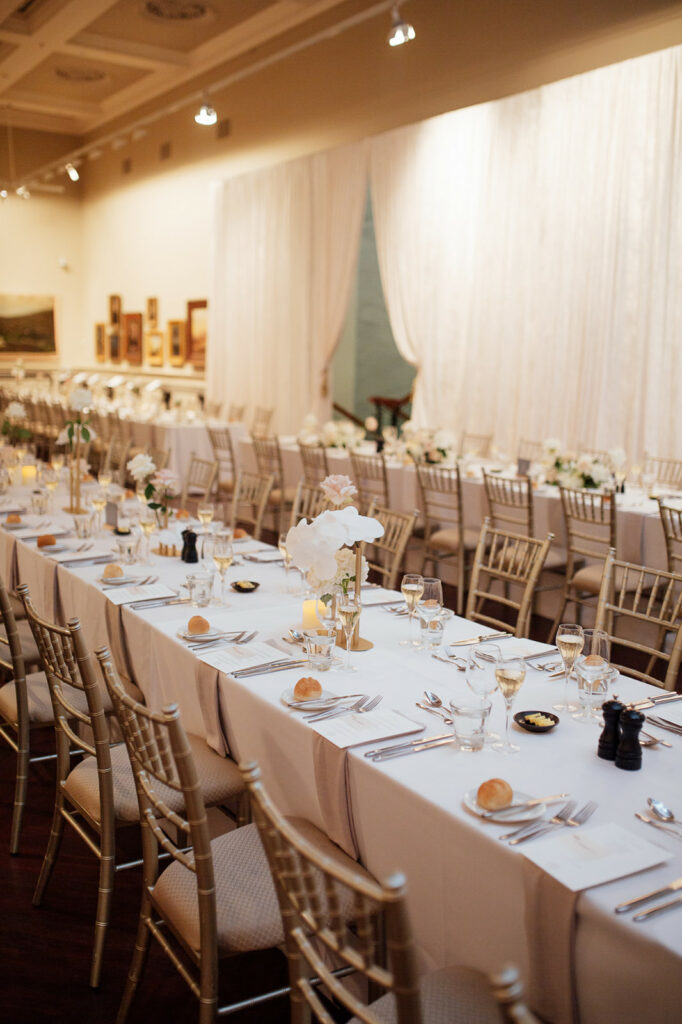 Looking back at the year of 2021, it's safe to say, it was not the easiest of years to achieve this honour. Working with couples as they experienced lockdowns, postponements, and reschedules due to government restrictions is not usual in the production process. In addition to this, works in State Library throughout the year meant that there were unexpected delays for some couples, also. However, our team is well versed in making anything work.

Despite a few bumps in the road, our team took the win with a vote of 99.98%

We are so happy to accept this achievement with such a strong dedicated family of hard workers. From our Client Relationships team when a first couple enquires, to our Producers who work with our couples the whole way, to our Wedding Attendants who help pack up the bags of the couples on the night, and of course the final "goodbye" from the Showtime Family.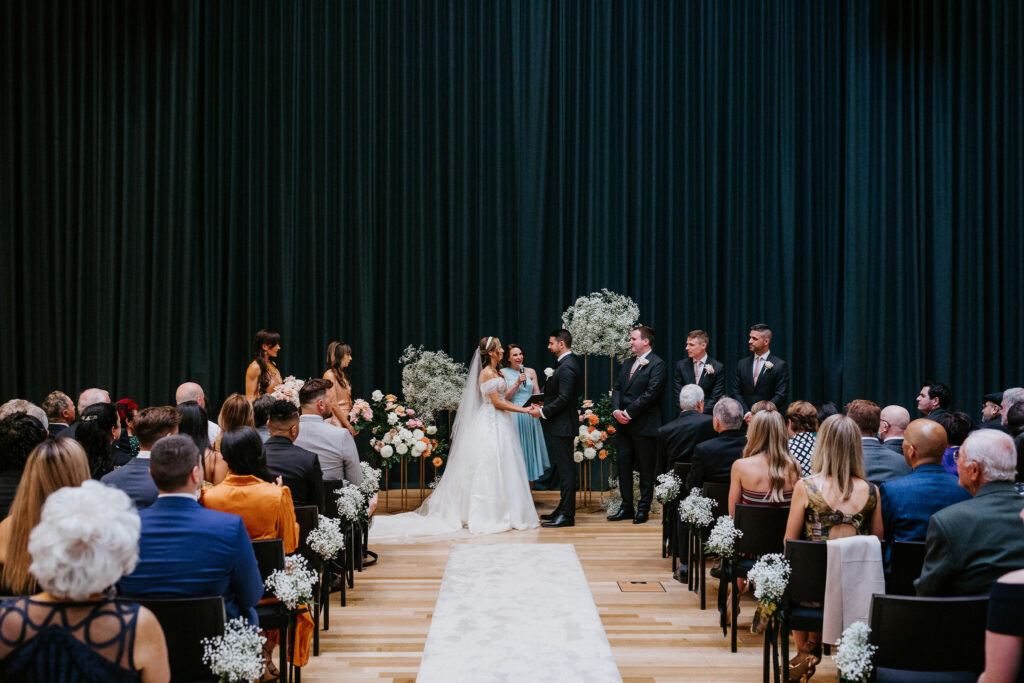 Some kind words from our couples,

"Colleen held us in the palm of her hands from day 1. She is the most professional, knowledgeable and intelligent staff member I have come across in the Events Industry. She was proactive in following up on everything as well as being very accessible which was so important especially in the lead up when things get stressful! During the pandemic, each time a new restriction came into play Colleen was straight away on the other end of the phone comforting and reassuring us, and it is really a credit to her for making the night as wonderful as it was. Words can't express how truly grateful we are to have had the pleasure of meeting and working with her – she is destined for wonderful things in her career no doubt! We are very grateful to each and every one of the team members at Showtime events – you all went above and beyond and every single thing you did was noted and appreciated!" Dina & Andrew, Jan 2021

"From the beginning Showtime and our Producer Colleen were attentive and so helpful. With our wedding delayed due to COVID, our stress levels were so high! However, they were there with us every step of the way. Other mishaps happened (venue damage and room change) and this is where Brad and Colleen shone brightest. Nothing was a problem. Their approach and positivity had both of us feeling so confident and happy with how great the night would be. Rebekah & Matthew April 2021

We have been blown away by Showtime Events' service, and our Producer Colleen, which definitely lived up to their award winning reputation! Planning a wedding during Covid creates additional stress to the process, but Colleen put our minds at ease throughout our 13 months together. She went above and beyond to make our night special and stress-free. They were incredibly flexible despite last minute restrictions causing havoc to our original plans and respected our decision to go ahead anyway. Catherine & Clement June 2021

I'm not sure there are enough words to describe the angel that is Colleen Haggarty… In the planning stages, Colleen's attention to detail, organisation, professionalism and clarity meant it was actually a breeze to plan a wedding reception. The only "non-breeze" part of the process was the COVID part putting several spanners in the works. HOWEVER. After all our postponed dates, Colleen always bent over backwards to help us secure back up dates and always made sure to instil hope that our day would come and it did ???? The pinnacle of this hope and insane logistical effort on her behalf was when we decided to move our reception forward an entire day (with less than 24 hours notice) as another inevitable COVID lockdown loomed. Colleen was able to organise the elements of the reception to be exactly as we envisaged (and more), on ridiculously short notice – I'm still not quite sure how this was managed. Thank you so much, we are truly exploding with gratitude and happiness – she has helped create some of the best memories of our life and we will remember her efforts and care forever. Jesse & Alex July 2021