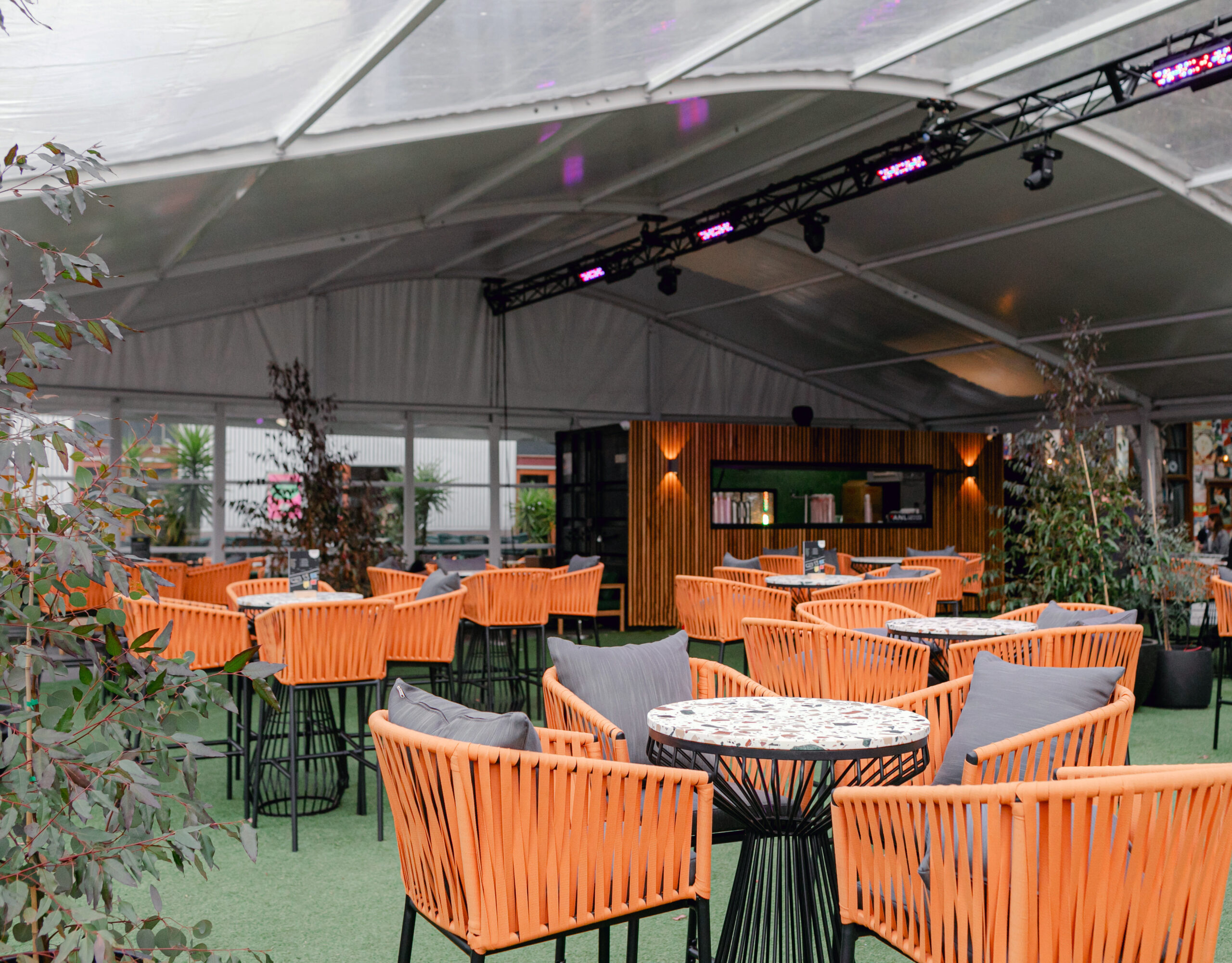 Melbourne's Newest Alfresco Events Space by Showtime Event Group
At Showtime Event Group, we are renowned for curating extraordinary event experiences in stunning venues. We are now thrilled to announce our latest venture: River Pavilion.
Nestled within the vibrant South Wharf precinct, the River Pavilion is set to redefine alfresco events in Melbourne, offering a unique blend of elegance, versatility, and breathtaking views.
A Captivating Addition to South Wharf
The River Pavilion stands as a testament to our dedication to creating unforgettable event spaces.
This one-of-a-kind alfresco events space, located in front of the iconic Showtime Events Centre, promises to capture the vibrant essence of Melbourne's culture.
Situated against the backdrop of the Melbourne city skyline and the picturesque Yarra River,
The River Pavilion offers guests unparalleled panoramic views, setting the stage for gatherings that are nothing short of extraordinary.
Elegance & Functionality in Harmony
Spanning an expansive 15×15 metres, The Pavilion boasts an impressive marquee structure that seamlessly blends elegance and functionality.
Within this space, guests are welcomed by a meticulously curated selection of low and high seating arrangements,
offering a stylish and comfortable environment for relaxation and connection.
Complementing the inviting ambiance is a dedicated bar, ensuring that guests' refreshment needs are effortlessly met.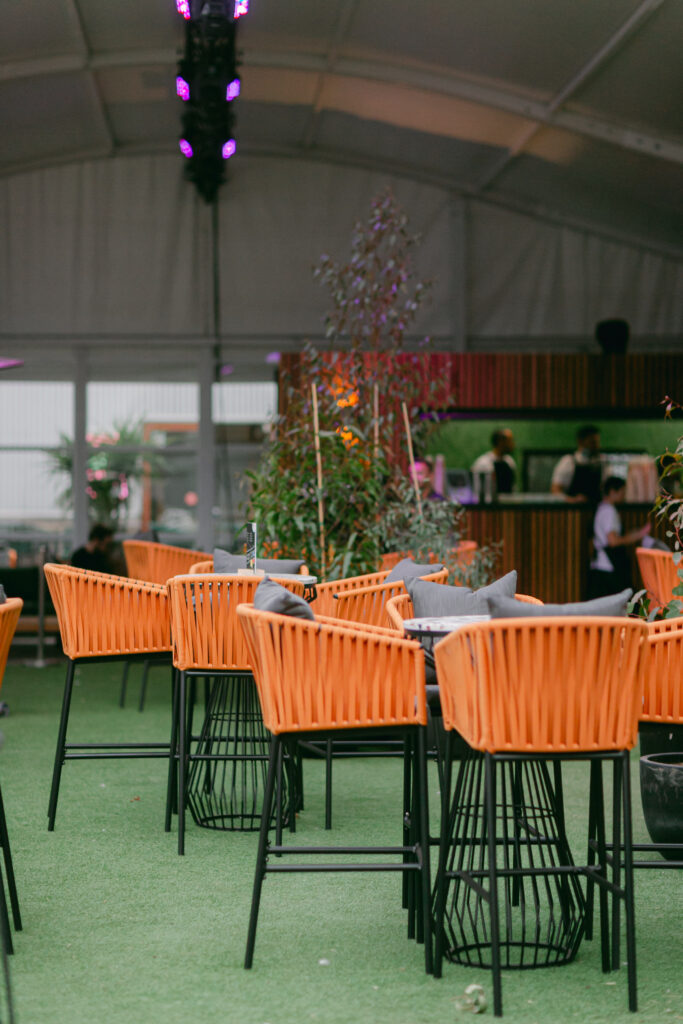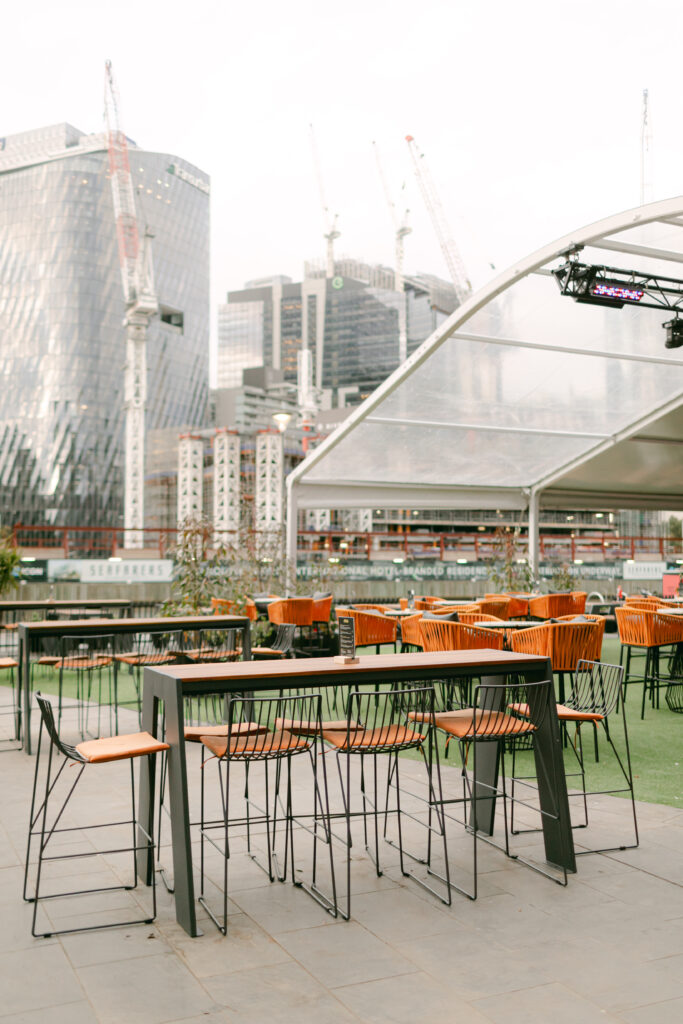 Nature-Inspired Design
Drawing inspiration from Melbourne's native beauty and the flowing Yarra River,
The River Pavilion's design is characterised by a colour palette inspired by the Victoria's native flora.
This carefully crafted aesthetic creates an inviting and organic atmosphere
that seamlessly connects guests to the surrounding natural beauty.
Moreover, The River Pavilion's construction has been entrusted to local builders,
infusing the space with a touch of community spirit and craftsmanship.
Weather-Proof Versatility
In acknowledgment of Melbourne's unpredictable weather patterns,
The Pavilion's thoughtful design extends to providing a solution for any climatic challenge.
Transparent glass panels can be swiftly installed in the event of rain or wind, ensuring that events can
proceed seamlessly while safeguarding the stunning views that define The Pavilion experience.
This adaptability sets The River Pavilion apart as a truly versatile event space.
A Venue for Every Occasion
The River Pavilion's versatility is one of its greatest assets. Whether it's a corporate conference,
a fairy-tale wedding reception, or a vibrant cultural celebration, the River Pavilion is tailor-made to accommodate a myriad of event types.
Additionally, it can serve as a standalone breakout space or event venue,
seamlessly supported by the existing infrastructure within the Showtime Events Centre.
Mark Your Calendars
The River Pavilion is poised to open its doors to the public on Monday, 25 September 2023.
Brad Dabbs, the Director of Experience at Showtime Event Group, expressed his excitement, stating,
"We are delighted to introduce The Pavilion, an alfresco events space that captures the essence of Melbourne's beauty and versatility.
Whether it's a corporate gathering, a wedding reception, or a cultural celebration,
The River Pavilion offers an unparalleled setting that embodies the spirit of our vibrant city."
As Melbourne eagerly anticipates the unveiling of the River Pavilion, Showtime Event Group
continues to solidify its position as a trailblazer in creating immersive event experiences that are as awe-inspiring as they are unforgettable.
Stay tuned for the grand opening and prepare to embark on a journey of beauty, sophistication, and Melbourne's inimitable spirit.
We can't wait to welcome you to The River Pavilion and create unforgettable events together.