Showtime Event Group's Aerial venue is the ultimate destination for corporate events. Below we focus on the Visit Victoria annual Destination Victoria conference networking party. By showcasing Aerial's unique features, seamless event coordination, and incorporation of local elements, let us demonstrate how Aerial sets the stage for exceptional corporate experiences.
Event Overview
The Visit Victoria annual Destination Victoria conference networking party brought together Victoria's tourism and events industry, offering a platform for professionals to connect and collaborate. With the conference held during the day at the Melbourne Convention and Exhibition Centre (MCEC), Aerial's strategic location and outstanding amenities made it the ideal choice for the networking event.
Event Theme & Styling
The event theme was Our Land, Our Locals — connecting our people, our land and each other to the things that make Victoria great.
Showtime Event Group supplier Botanics Melbourne utilised natives and natural fibres such as bark and branches in the styling of the venue, along with the custom floral installations throughout the venue.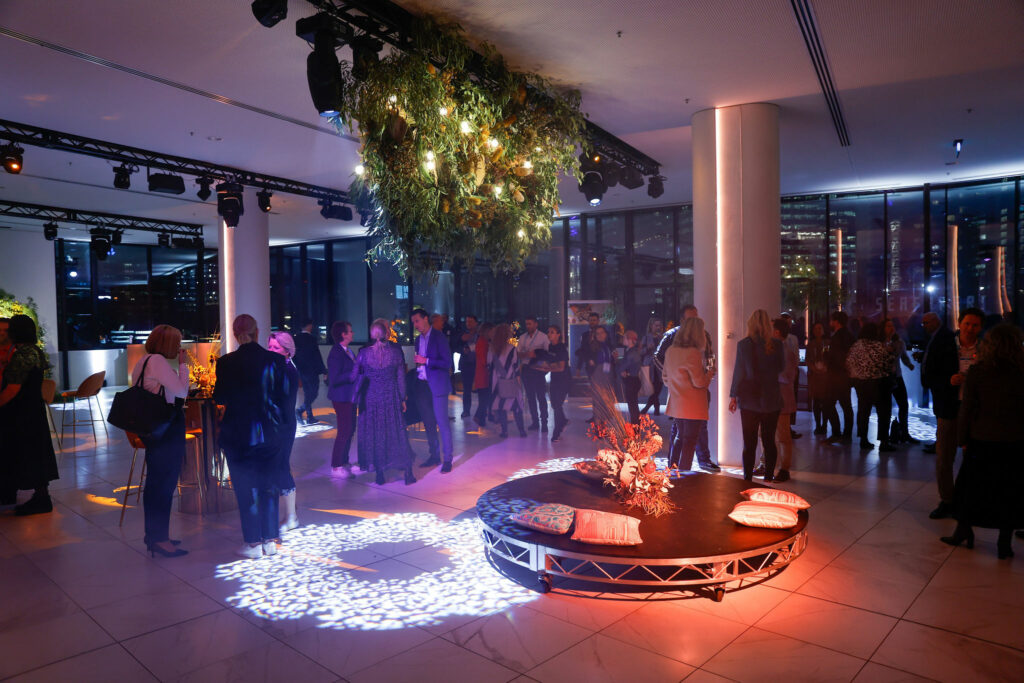 Strategic Location
Aerial's proximity to MCEC, the CBD, public transport, parking, and hotels made it incredibly convenient for attendees. This close connection allowed for a seamless transition from the conference to the networking event, ensuring maximum engagement and participation.
Unparalleled Venue Features
Aerial's standout features added an extra touch of allure to the event. Its prime location offered breathtaking 360 skyline views, providing a stunning backdrop for networking and fostering an unforgettable atmosphere. The venue's state-of-the-art audio-visual capabilities, managed by Scene Change, ensured a seamless integration of technology, enhancing presentations and entertainment.
Embracing First Peoples and Local Suppliers
The event celebrated Victoria's cultural diversity by incorporating First Peoples and local suppliers. This inclusivity was primarily achieved through the careful selection of products and suppliers, creating an authentic and meaningful experience for attendees.
Kiernan Ironfiled, a Dharug man and a professional Yidaki/Didgeridoo player, greeted guests in the foyer with a feature performance. Miss Dee, a Melbourne based singer, guitarist and DJ, entertained guests with an ambient acoustic set and her infectious energy and stage presence.
Styling elements, including florals inspired by First Nations, added a touch of cultural significance to the event, reflecting the commitment to honouring local traditions.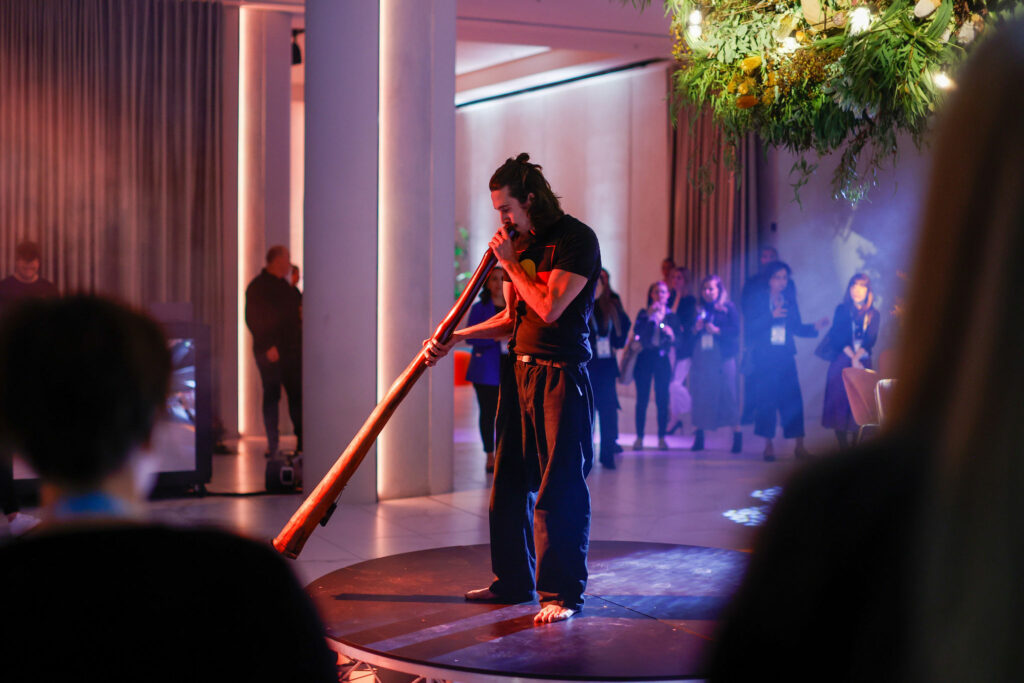 Captivating Culinary Experiences
The cocktail event at Aerial showcased interactive food stations, including a wok station and a create-your-own dessert station. These culinary experiences engaged attendees, stimulating networking discussions and creating a memorable experience. Native treats from PAWA, a local Indigenous supplier, were featured at a dedicated food station, celebrating Victoria's rich Indigenous heritage. Taka Gin Co. offered First Nations inspired gin, featuring native botanicals.
Stylish Event Enhancements
Dann Event Hire provided modern furniture with orange earthy tones, complementing Aerial's luxurious ambiance. The staging options, tailored to different styles of entertainment, allowed for seamless transitions and captivating performances. The grand entrance created by the venue's stairs added a touch of grandeur, setting the stage for an unforgettable experience from the moment guests arrived.
The End Result
By seamlessly integrating strategic location, exceptional venue features, captivating culinary experiences, and the incorporation of local elements, Aerial delivered a truly elevated and memorable experience for corporate clients. Aerial's commitment to excellence and attention to detail solidifies its position as the unrivalled after-party destination for events held at MCEC.