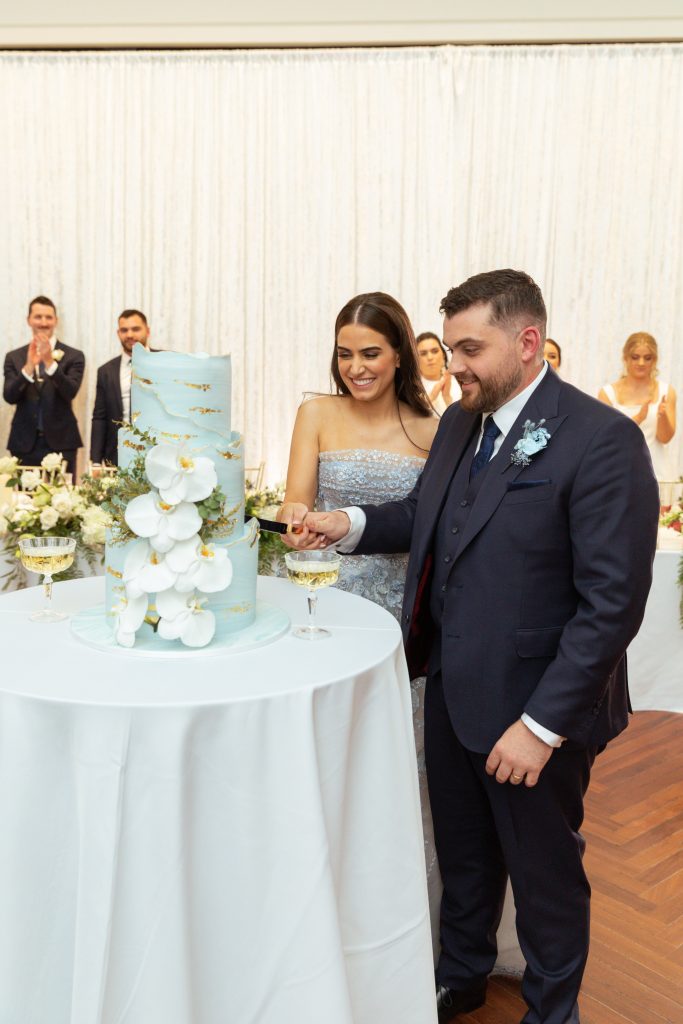 Never forget that something blue…
After a year of lockdowns and uncertainty, 2021 was looking up. Life was becoming back to normal. Which meant that all of our wedding couples could finally stop holding their breaths and relax. What else could go wrong was the question on everyone's lips?


Well, we must have spoken too soon. Early into 2021, the gorgeous Ian Potter Queen's Hall had a pipe burst and was closed for repairs.


After already postponing their love day once, Rebekah and Matthew anxiously decided to go ahead as planned but in a new space within the State Library of Victoria. After some consideration the couple decided to go with the Victoria Gallery within the Library.  


Rebekah and Matthew decided to transfer the same styling mood and theme over to the new space within the State Library with the help of the Showtime Event Group team.


The high ceilings in the gallery were a key feature for this wedding space, with the white draping that masked the walls of art. The aesthetics of the room were tied together with fresh natives, white roses and autumnal pops of colour that florist Botanics of Melbourne magically created.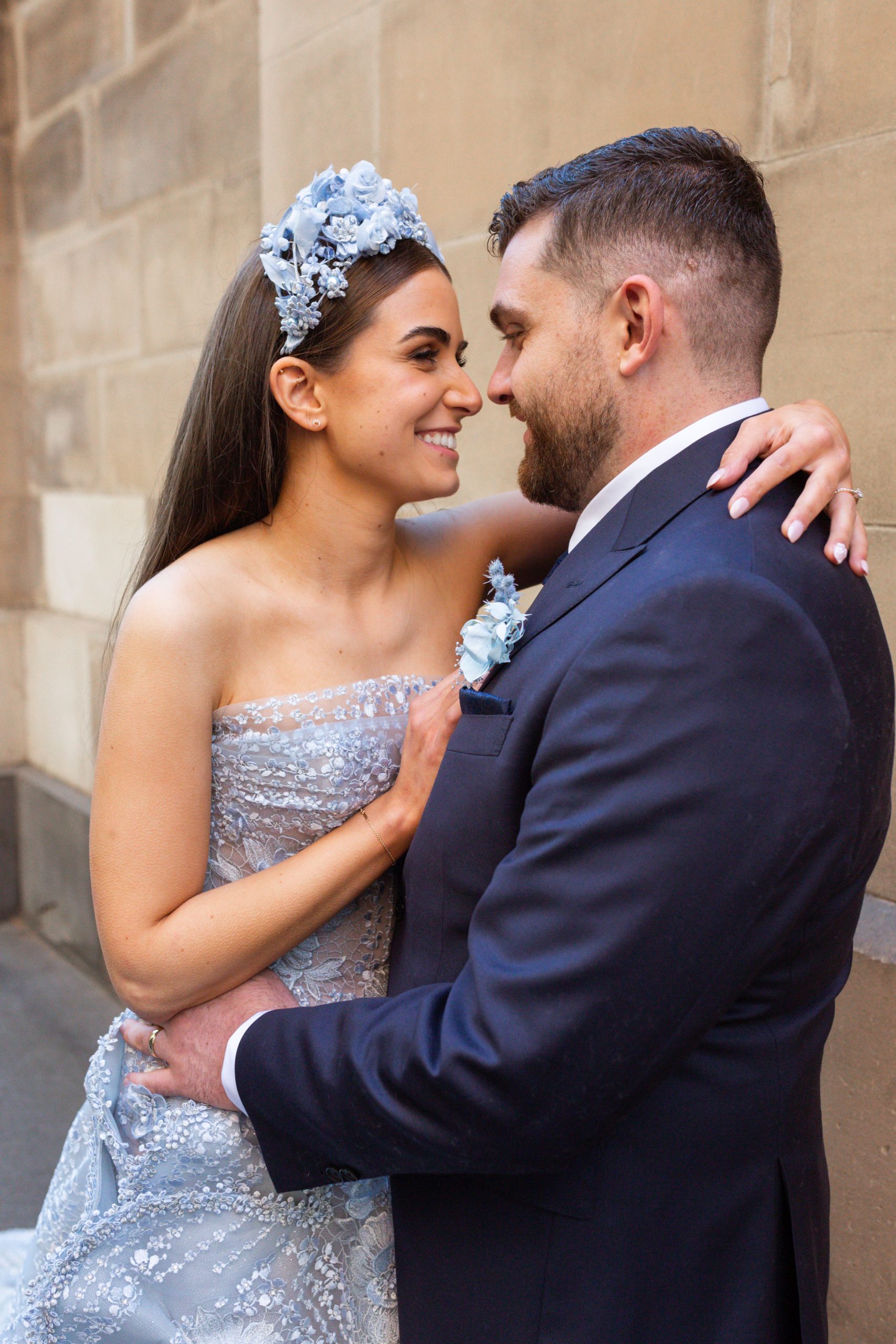 We can all agree that the room was perfect! But we are yet to tell you all about the jaw dropping bride, Rebekah.


Finding the perfect dress can be a struggle. You can go into a bridal store with the intentions of trying on only one style and end up buying something completely different. Or, you can try on hundreds of dresses and not find anything that makes your heart skip a beat. Rebekah tried on quite a few dresses, and after many attempts, she decided that white was 'not quite' her colour.  So she decided to throw tradition out the window and stick to what colour she loves and suits her best –  blue.


Rebekah donned a custom J'Aton gown that was the perfect shade of blue for her to say "I do." The strapless dress was covered in floral embroidery with a train that followed her effortlessly as she moved. Because Rebekah wore blue, she had her bridesmaid wear white to tie together the colour scheme.


But what is a bridal queen without her crown? For the ceremony Rebekah wore a blue crown to match her dress. J'Aton Couture outdid themselves with this dress.


Of course to fully tie together the styling, we have to mention the cake. The 3 tier was a similar blue to Rebekah's dress, with gold detailing throughout and orchids draping down the front of it. It is clear that no detail was missed and everything just flowed so seamlessly. 


---
---
Florist – Sam Rizzo for bouquets and lapel flowers
Sam Rizzo Floral Designer
Botanics of Melbourne for wedding reception flowers
Botanics of Melbourne
Dress – J'Aton
Jaton Couture
Grooms suit – Carbone
Carbone Master Tailors
Cars – Host Melbourne
Host Melbourne
Photographer – Dan Soderstrom
Dan Soderstrom Weddings
Videographer– Iconic Pictures
Iconic Pictures Melbourne
Band – Baker Boys band
Baker Boys Band
Draping – Active Draping
Active Draping